Viber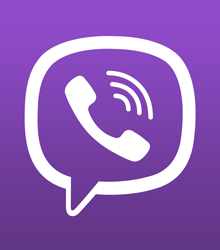 Category
:
Social Networking
Platform
:
Apple IOS
,
Google Play
Developer
:
Viber Media SARL. © Viber Media S.à r.l.
Languages
: English, Arabic, Bokmål, Norwegian, Catalan, Chinese, Croatian, Czech, Danish, Dutch, Finnish, Fren
Content Rating
: Rated 4+
Size
: 85MB
In the world of VoIP calling apps, calling your loved ones across the world has never been easier. Viber was one of the pioneers in this market, offering free calls to any and all users around the world. Viber offers a pretty decent interface, with a neutral theme that doesn't stick out too garishly, and a design interface that is pretty modern; quite unlike several other apps that seem to want to stick to a pre-windows 95 look
. The app has been a constant companion from my Blackberry days, and still is with me on both the iPhone and Nexus 5, which is sort of a testament to its utility.
The tech of the app is quite straightforward. Crystal clear calls on 3G or 4G or WiFI. The app even manages to get clear calls in on 2G sometimes, which in all honesty is fantastic and not many other apps can claim the same. The VoIP bundles are also moderately priced, and offer a decent deal in terms of how much each top-up can take you forward.
The call rates to the Americas and Australia are pretty much similar, with European rates are slightly higher. Calls to the Middle East cost a bomb as usual and the best option usually is to ask your friend/family/colleague to install the app and then make free data calls.
Although Viber has a lot of features, the app of late has become a bit full of bloatware, such as the incessant stream of stickers for different holidays and occasions.
The chat features have also become a bit obsolete, what with the onslaught of apps like Line, WeChat, WhatsApp and the others.
Viber chat seemed to be a bit late to the party and has since not been able to keep up with the chat feature. The app is free to download, and offers in-app purchases of top-ups for VoIP calls. Available on both Appstores, for devices running Android 2.3 and up, and iOS 7 and up.